Why choose a professional decorator – why choose us?!
We have the time, the knowledge, the skills, the organisation, the contacts and the endurance to see a project through from planning to completion, efficiently and to a high standard.
It all starts with meeting you and listening carefully to what you are wanting to achieve.  Understanding the issues you want to resolve and proposing solutions and improvements for your consideration.  We then take time to provide you with a detailed quote so that you can check to ensure all your requirements are met.  Sometimes this detail can be useful in prompting some refinements to really get what you would like.
We carry out preparation thoroughly, using our ability to identify and solve problems and to overcome paint defects. Our objective is to create a surface which is ready for your chosen paint or wallpaper to look beautiful once applied.
Then, there is the choice of the correct products and quality paints to achieve a long lasting and great looking finish.
Finally comes the careful application of all the materials in the correct order and on the agreed surfaces, the most satisfying part of our job, especially when we see our customer's happy smiling face when it is all finished.
It is one of the best feelings in the world!
Why is interior decoration required?
There are several reasons why our customers ask us to redecorate:
Water leaks, resulting in cracks, nasty stains, peeling paint and mildew.
They fancy a change of colour, new wallpaper or a new look altogether.
Thermal movement through the seasons which gradually exceeds the ability of paint and fillers to stretch as they become more brittle with age, resulting in cracks and gaps.
Wear and tear, chipped corners, carbon deposits above radiators, yellowing of woodwork.
Problems caused by condensation - cracks, flaking paint, peeling paper and mildew growth.
Building work or other changes which cause damage or create new surfaces needing decoration.
Each area is a valid reason in itself but often there is a combination of factors.
On our initial visit we will look to identify and assess all defects in order to propose the correct system and products to extend the life of the new work and at best avoid a recurrence of the problem.
This analysis and resulting specification of the decoration is part of the service we offer to ensure you receive a high quality finish.
Without thorough preparation, finished work can never look good and money 'saved' can be a false economy in the long run.
We also find that by making this effort and being able to provide the correct advice at the start, our customers can make better decisions and there are no surprises later in the job. This means jobs can run to schedule and budget.
Once we have agreed the work to be done, we will issue a detailed fixed price quote. Once you confirm you would like to go ahead, we will propose a start date and finish date for the job.
We will organise the supply of all materials, unless we agree otherwise (eg you may already have the wallpaper).
Then we turn up and do the work to our normal high standard.
We enjoy our work and cannot wait to hear from you!
What are the benefits of having your house repainted?  This can be quite an expensive job to have done with no apparent improvements to day to day living, so why give this serious consideration?
We believe there are a number of good reasons to get your house painted.
Over time, depending on the quality of the previous decorating, the weather and natural processes start to demolish your house! The extremes of heat and cold, driving rain, algae growth, wind, rot and rust all break down coatings and surfaces, producing a steady decline in the quality of the building. Maintenance is essential to avoid serious damage in the longer term.
A neglected property can generate unwanted attention and lose value. In contrast a well maintained and nicely decorated exterior can increase the value of a house or bungalow and make a positive contribution to the local street scene.
Professional decorators like us, from the vantage point of ladders or scaffolding, will look for and check gutters, down pipes, cracks, upstairs windows, gables for problems or faults that need to be rectified. In the past we have discovered large holes in exterior walls, loose bricks, rotting wood, water going into the cavity, roof letting in water, attachments close to falling off, metres of unwanted cables, gutters full of earth and moss and numerous other flaws needing attention.  If we can't fix it, we know someone who can.
If you have had building work done, or cavity wall insulation installed, or simply some re-rendering carried out, redecorating will make a big difference to the appearance of the house, quite apart from protecting the new surfaces against the attack from the weather. Unpainted render quickly starts to break down and become more porous, becoming more prone to cracking and letting in water.
The quality of exterior decorating varies enormously, whether it's DIY or paid for. The variables are many - the ability to solve problems, the thoroughness of the preparation, the quality of tools and materials used, the knowledge of the best products and the use of high quality paints.  We have strengths in all these key areas, built up over 15 years of exterior decorating experience and hundreds of individual jobs.  We will therefore be able to overcome any shortcomings of the previous decorator.
We enjoy making a difference and achieving a 'turnaround' for our customer.  Bringing perhaps a tired or neglected property back up to its best condition, repairing rotten window frames, filling gaps and holes, removing failed filler and making good, refitting loose components eg cladding or boards, replacing rotten timber, treating algae and rust, removing failed paint and repainting with the correct, high quality products.
This is our standard approach to preparation and painting and ensures a high quality outcome for every customer.
Many businesses will promote themselves as quality operators without much to back it up.  The use of the word is enough in their view.  But what is 'quality' when it comes to decorating?  For us and therefore for our customers it means the following:
Training. To give us the right foundation and respect for our trade and for our customers. We are qualified decorators.
Detailed assessments and quotations to ensure all your requirements are identified and understood. This avoids unpleasant 'surprises' during the job when problems are found which should have been anticipated.
Treating you and your property with respect, providing honest assessments and fixed price written detailed quotations, so you know exactly what we will do for our price.
Advice and guidance regarding decorating schemes, necessary maintenance, improvements and introductions to other tradesmen to help you complete a project.
An ethos of ongoing improvement. Even after 15 years and over 1000 jobs there are still opportunities to try new ideas and learn from difficulties.
Thorough preparation and resolving all the issues which interfere with the final finish. Not all decorators do this! For us, it is not how quickly we can do the job, but how well we can.
Using the correct products for each application. This requires knowledge, patience, organisation - characteristics shared only by professionals.
Specifying top quality paint and finishing products for a durable and great end result.
Relying on ourselves for our reputation. Our team are either employed by us or are ourselves! We do not subcontract.
Developing an environmentally sustainable proposition. We recognise our activities have an impact beyond ourselves and therefore as responsible tradesmen, we have developed an Environmental Policy. Please see the section below.
To make sure we achieve a high quality performance we went through assessment by several external agencies. Investors in People was the most challenging and rigorous accreditation which took several months. However, at the time we were the only decorators in Sussex with this Quality mark, reflecting our strong focus on achieving excellent results through our people.
We also were vetted and received membership of the West Sussex County Council Trading Standards 'Buy with Confidence' scheme. Again this is a rigorous assessment which should provide great reassurance to our customers. We have now been members for 10 years.
At the same time we were vetted and accepted for the Dulux 'Select Decorator'  scheme which involves regular site visits to verify the quality of our work. Of course many decorators turn down the offer to join because they don't want to be assessed on site meaning that membership of the scheme is a true quality standard.
Whilst the above information is all very impressive and ticks a lot of boxes, all it really does is reflect our attitude to our work. That attitude can be summed up as hard work and attention to detail from beginning to end, resulting in a high quality outcome and a delighted customer.
We invite you to be one of our customers!
1. Waste Disposal
a) We comply with Environment Agency requirements regarding disposal of waste. These specify that waste materials that previously belonged to our customers, e.g. stripped wallpaper, unwanted fixings, broken plaster/render, etc. are the responsibility of the customer. Russell Marlow Painting and Decorating is not a waste carrier and does not hold a licence to transport waste. This means that we can only take away the residue of what we have supplied, e.g. packaging, surplus materials, empty paint tins, etc.
b) We were the first Painting and Decorating business to sign up with Dulux Decorator Centre in Worthing for their empty can recycling service. The alternative is landfill.  Before Dulux introduced the Can Recycling scheme, landfill was the only option but since 2011, we have recycled thousands of cans.
c) We recycle all cardboard, metal, plastics.
2. Paint Products
a) Traditionally, a good finish, particularly on woodwork, could only be achieved using oil-based paint. However, these have a number of drawbacks including smell, emissions, toxic paint waste, long drying time, and a tendency to yellow over time. For internal work we specify Dulux Trade water-based alternatives including their 'Ecosure' range which has lower embodied carbon. Whilst the paint industry was forced to reduce VOC (Volatile Organic Compound) content in 2010, harmful emissions from oil-based paint remain higher than water-based paint and in some respects, performance has suffered.  For exterior work we specify water-based Zinsser products which have excellent performance characteristics.
b) Whilst we have great confidence in the Dulux Trade product range for quality and reliability, we have worked with Newlife Paints Limited to develop a high quality range of emulsions, using recycled paint. This is a ground-breaking and technically excellent approach to addressing the huge volume of waste paint. We have completed many successful projects using Newlife Paints and are delighted to specify Newlife to our customers. Please visit their website for more information: www.newlifepaints.com.
3. Cleaning Up
a) We minimise the need to clean by wrapping rollers and brushes in thin plastic sheet so they can be reused without loss of performance. For oil-based painting we have invested in 'Brushmate' technology so that wet brushes can be kept for re-use.
b) Many decorators throw away rollers and brushes after a single use.  This normally means they use cheap equipment.  This is bad for landfill and wastes resources.  We always wash up our equipment so it can be re-used.
4. Travel
Many decorators and tradesmen will travel miles to work.  However, we prefer to work in a small geographical area to reduce our carbon footprint.  We also find this is efficient, saves time and improves our service while reducing road congestion.
Overall, this holistic approach assures our customer that we are serious about providing them with an ecologically sound service derived from professionalism and expertise in this field.
Privacy Policy: Customer Confidentiality and GDPR
New General Data Protection Regulations  were brought into effect in 2018 and affect all holders of personal data. 
For the purpose of the GDPR regulations, the Lawful Basis for our collection and processing of this data is that we have a Legitimate Interest to receive and hold this information. 
To enable us to carry out our work for you, which includes visiting, issuing a Quotation and ultimately booking time, carrying out the agreed work, invoicing and receiving payment, we will have collected certain personal details from you. 
What Data do we Collect?
Your names, including possibly names of children or other occupants to distinguish between rooms being decorated. 
Your address, telephone numbers and email addresses. 
Details of the property and work to be undertaken, including measurements, layout, and access information. 
When working for Letting or Managing Agents, the personal details of tenants or leaseholders may be recorded. The same requirements and protections are provided to those individuals as to direct customers.
How is this Data Obtained and Recorded?
The personal data we collect will be supplied by you, either by you emailing or telephoning or given to us verbally. 
We write these details onto a Visit Schedule and into our Quote Book. 
A Quote is then typed on a Computer and emailed or posted to you.  The data is then used to raise an invoice when the job is complete. 
How Long is the Data Stored?
Data is stored securely for future reference for as long as is required. 
On many occasions, my ability to refer to details of old jobs has solved many problems with colour matching, updating quotes and resolving other queries. 
Data is also retained to comply with legal requirements. 
Customers do have Right to Erasure of the Data held by us. Please contact me by email on russellmarlow@btinternet.com if you wish to exercise that right. Please note that if I am obliged to retain data to comply with other obligations eg to the Taxman, then I may not be able to comply with your request. 
How is Data Used?
Data is obtained and used for the sole purpose of Russell Marlow's business of Painting and Decorating in its relationship as Painter and Decorator to its customers. 
The Data is not used or will not be used to carry out any Marketing activities either by Russell Marlow or any associated business. 
The Data will not be passed to third parties either on a paid or unpaid basis for any purpose whatsoever unless to comply with the Law or when specifically requested by the customer eg to introduce another tradesman. 
With Whom is the Data Shared?
Customer details including name and address and work to be undertaken are shared with my employees and administrator, and with our associate business, Andrew Marlow Carpentry and Decorating. 
This is for the sole purpose of carrying out the job. 
How do we Protect Your Data?
The job information is passed to employees using a closed WhatsApp Group and is deleted by the recipients at the end of each week. All devices used by the Group are password protected. 
No customer data is saved in the 'Cloud'. 
Customers using the 'Contact Us' page of this website will see that their data is encrypted and cannot be intercepted once sent. The website benefits from an 'SSL Certificate' and is a secure site as can be seen from the 'https' designation. 
Written records are stored securely. 
The Right of Access
If you require us to inform you of all data we hold about you, we undertake to do this within 1 month of the request. Any such request should be made by email so that there can be no dispute about when it was made. The email address for this purpose is russellmarlow@btinternet.com
The Data will be provided in manual form, that is photocopies of written records and printouts of all typed documents. 
Therefore please provide the address you require the copy records to be sent to. 
We are always pleased when our customers take the trouble to give us feedback. This helps us to continually improve and be sure that we are succeeding in providing the quality service that our customers require. Please find below examples of written feedback which we have been delighted to receive.
"We are very pleased with the results – many thanks."
Mr & Mrs B, Ferring
"Many thanks for your prompt execution of this work and dealing with attendant problems."
Mr B, Worthing
"Many thanks for staying on to complete the work on Saturday – it really was a marathon."
Mrs B, Worthing
"We would like to thank you for your conscientious and painstaking approach, and the completion of the work to a most satisfactory standard."
Mr B, Worthing
"Thank you very much for preparing and repairing my bathroom wall and especially for fitting it in on such a short time-scale."
Mrs S, Worthing
"I am writing to thank you for the excellent paint work you have done on the front of my house. The finished product looks fantastic, and both myself and my parents (and I am sure, the whole street!) are very impressed. I must congratulate you, and your employee Antony, on your tidiness and professionalism. The whole job was completed quietly and efficiently, and I felt I was consulted and updated at each stage of the redecoration. On completion of the work the area was left clear and tidy. Thank you also for quoting me such a reasonable price. I will certainly be recommending you to my friends who need any painting and decorating doing."
Ms N, Worthing
"Thanks very much for a splendid job done."
Mr H, Worthing
"Well what can I say? The flat looks absolutely super! You and your team are superstars. I can't believe the transformation in all three rooms but particular the hallway especially with my new 'Homebase' lights and trendy switches. Once again thanks ever so much Russell for all your hard work. If ever you need a reference of photos to show future clients don't hesitate to ask I'd be delighted."
Miss W, Reigate
"A special thank you for the good standard of the decorating and for all the attention and care with the ornaments."
Mr B, Lewes
"Thanks so much for doing such a great job on the stairway – very much appreciated. It looks great & we'll certainly be recommending you to anyone looking for some work done."
Ms H, Worthing
"Thank you for another job beautifully completed."
Mrs P, Goring-by-Sea
"Thank you for all the hard work – we are very pleased with how it all looks."
Mr & Mrs P, Worthing
"I am very happy with the work and would be happy to give you a reference."
Mr B, Worthing
"Thanks again to you and the team for a job well done."
Miss G, Worthing
"Thanks a lot for all you did, I really appreciated the wonderful work you and your team did in my little house. Pity that the house is so small and no more walls to paint!! But if I ever need any decoration jobs or hear from friends who are looking for a reliable and professional company I will strongly recommend you. You all did a super job, congratulations! Please extend my thanks and regards to all the team."
Ms W, Worthing
"Thank you very much for making it happen when I was away, and doing a superb job – it looks really good."
Mr S, Worthing
"Thanks for your very professional work, I am very pleased with the finished result."
Mr V, Worthing
"The decorating and other work seems to have been carried out with thoroughness. The completed job should stand the test of time. It remains for me to congratulate the team and yourself."
Dr C, Worthing
"Thanks again for your excellent service. Cheers."
Mr V, Worthing
"A very big thanks to you and your staff for an excellent job."
Ms M, Worthing
"Many thanks for your prompt attention to this job, also your usual high standard of finish: we are both pleased with the finished results."
Mrs B, Worthing
"We are very pleased with it all and despite the lounge paper being mean to hang it looks great. We would be grateful if you would pass our thanks on to your team who did a grand job."
Ms A, Ferring-by-Sea
"We are very pleased with the work and thank you for leaving some remaining paint."
Mr & Mrs S, Worthing
"Thank you for a job well done. Entrance hall looks so much lighter and paintwork also. Many thanks to you and your very nice bunch of helpers. It was a pleasure to have you all around."
Mrs C, Worthing
"Thank you so much. Room looks very nice. Wallpaper great."
Ms R, Worthing
"Thank you for the work on the summerhouse and the painting of the shed. The summerhouse looks grand with the replacement weather vane. I trust that your firm will continue to flourish despite the current national economic problems."
Dr C, Worthing
"Thanks for an excellent job. Your cleaning up was spectacular as well! Please thank those who worked with you as well."
Mrs M, Worthing
"I can recommend Russell Marlow Painting and Decorating as they have just finished the outside of my house. The team are very hard workers and I am very pleased with the result."
Mrs P, Worthing
"Thank you so much for doing such as wonderful 'job' in painting our house. It looks splendid. We were most impressed with the way in which everyone worked so hard and with such professionalism, finishing in record time."
Mr & Mrs N, Goring-by-Sea
"Thank you so much for a fabulous job, we have had a lot of wonderful comments on the 'new look' to our house."
Mrs P, Worthing
"Thank you again for a job extremely well done! Please tell the team that they are more than welcome to pop along once the carpets are down if they wish to see the finished product 'in the flesh' so to speak. We have passed your details on to someone as he is looking to have his hallway done and is extremely impressed with the job you've done on ours."
Mrs M, Worthing
"Very pleased with your work. Pleasant, professional people who work to their time schedule. Would use again."
Ms P, Worthing
"I had Russell and his team go right through my bungalow after all the building work and I was seriously impressed with them. There was no throwing a coat of paint on. Every surface was filled, rubbed down and then painted, and if they weren't satisfied with something they went over it again. I found him sensibly priced, all his staff were polite and I can't think of a thing to complain about."
Mrs B, Worthing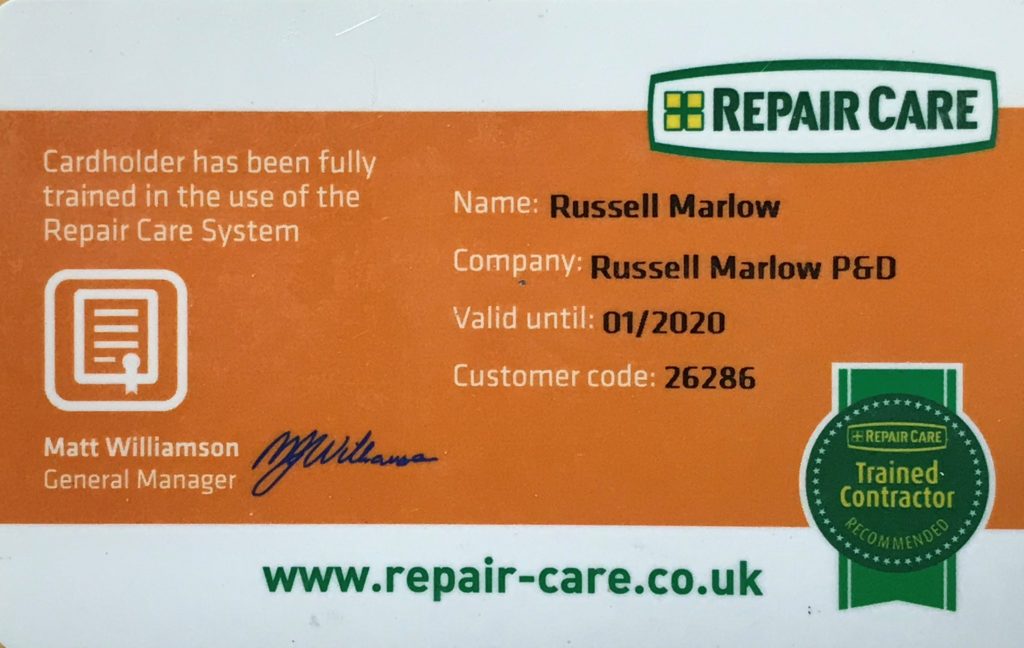 Call me on 07779 097953 to discuss your project